Chamber
Recordings are in FLAC format downloadable through MediaFire by clicking on each title.

---
London String Quartet & Ethel Hobday piano
James Levey violin, Thomas Petre violin, H. Waldo Warner viola and C. Warwick-Evans cello
Schumann: Piano Quintet, Op. 44 - abridged recording [file size 54.5MB]
[score downloadable from IMPLS]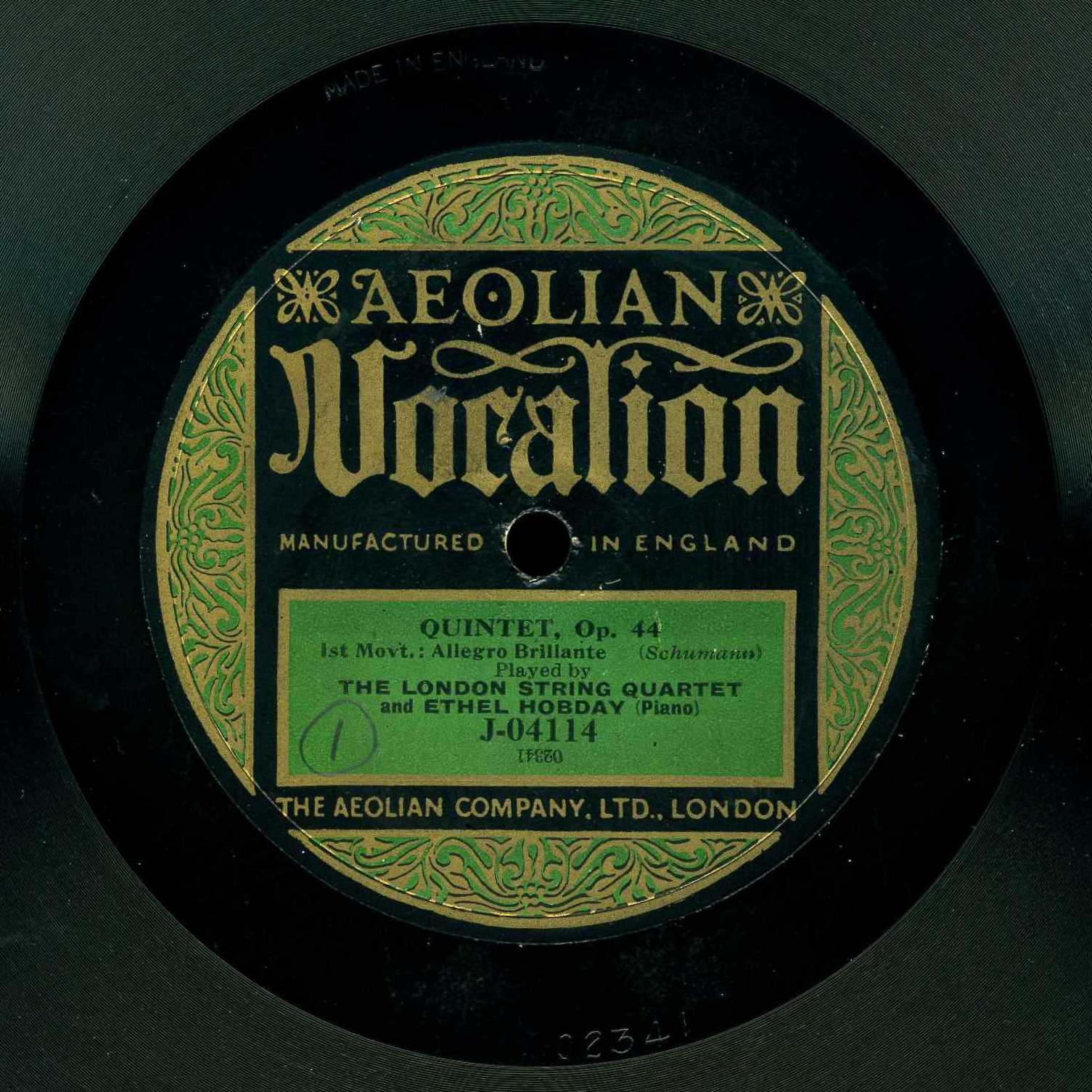 Recorded: Autumn 1921
Matrix: 02341, 02342, 02343 & 02344
Cat. No. Vocalion J-04114 & J-04115
Format: 30cm (12inch); double-sided, green, black and gold label
This recording has been much talked about but, as far as I am aware, never reissued.
The fame of this performance does not lie in its being either the first recording of the work or in its being particularly fine. It lies instead in the impact it had on the history of the gramophone.
The story has been published in various versions but I will take this one extracted from a talk published in Proceedings of the Musical Association, 51st Sess. (1924 - 1925), The Gramophone. Its Past: Its Present: Its Future by Compton Mackenzie:-
'I will now with your permission give you an outline of my own adventures with the gramophone during the last three years, in the course of which I will take the risk of being too obtrusively personal in the hope that thus I may be able to give you a clearer vision of the problems that beset us if we are to take full advantage of the possibilities that the gramophone affords for musical culture than if I were to approach the subject from a less personal and more academic standpoint If in taking this line I shall seem to assume occasionally that my audience is in need of conversion they will, I dare hope, pardon my missionary zeal and remember, those of them who have already fully appreciated what the gramophone can do for music, against what an impenetrable prejudice they have so often themselves had to contend. In February, 1921, while I was walking down Bond Street about six o'clock of a wet and windy evening I was seized with a desire to lighten the depression of spirit into which the weather had plunged me by purchasing something rather expensive. Had it been earlier I might have turned into my tailor's and ordered a new suit; but six o'clock is not a good hour to examine patterns of Harris tweeds. I found that I was passing the Aeolian Hall and decided to go in and inquire about an instrument that many years before had given me my first real enjoyment of music. This was the mechanical organette known as an Aeolian. It appeared that I could have a second-hand instrument on deferred terms, and I arranged for its transport to the Channel Islands as soon as possible. The shop assistant could not find a catalogue of the music-rolls available at the moment, but he promised to send me one next day. When it arrived I found that all the good music was no longer in circulation and that there was scarcely anything left but selections from forgotten musical comedies. Now a selection from "The Circus Girl" is not really the kind of music to which an organ does justice. Where were the symphonies which twenty years before I had pedalled through for hours at a time every night ? There was not one left. What I had wanted was a good working hackney. What I had bought was a white elephant that I was incapable of feeding. Followed an acrimonious correspondence. The company were naturally vexed to find that the purchaser of the dusty old fossil which had long cluttered up their space would have none of it. They held me to the bond I had rashly signed; but at last a compromise was offered by which I was to buy a Vocalion Gramophone, and an illustrated catalogue of models was sent to me from which I could choose. I ordered the Hepplewhite model which stood about midway in price between the cheapest and the most expensive. I ordered this model because I liked its design. Alas, how many people there are all over the world who still choose their gramophones from the design of the cabinet. Fortune treated me more kindly than I deserved, for it fell out that I selected one of the two good instruments that the Vocalion Company then made. All their cheaper models were bad. All their more expensive models were bad. Had I preferred Louis Quatorze furniture to Hepplewhite, had I even preferred Sheraton or Chippendale I should never have become an enthusiast for the gramophone. The next step was a pessimistic examination of the catalogue of available music. To my surprise and pleasure I found that I could obtain abbreviated versions of Schumann's Piano Quintet, of a Mozart Quartet, of Schubert's B flat Trio, of a Haydn Quartet, one or two orchestral works of some interest, and a certain amount of good music played by a band. It was when the instrument arrived and I put on the first movement of the Schumann Quintet that I realised with a shock as sharp and as sudden as the spiritual upheaval known as conversion that the gramophone could do something of which I had never dreamed that it was capable.'
The actual copy of the record that Compton Mackenzie played was used as the cover illustration for the Golden Jubilee issue of The Gramophone in April 1973 with another version of the story together with a captioned photograph of the record framed with a letter which reads:-
'Isle of Jetho - CI. This record which was first played by me in the month of March 1922 may be considered the founder of THE GRAMOPHONE. It was first to teach me what the gramophone could do. Mr Robin Legge, the musical critic of "The Daily Telegraph" hearing my enthusiasm asked me to write an article for his page. That article provoked such a wide response from readers that I determined to found a magazine. Floreat! Compton Mackenzie'
The recording was originally issued as four single sided records with the catalogue numbeed.A-0162, A- 0166, A-0171 and A-0173 and issued consecutively in October, November December 1921 and February 1922; my version is the double sided issue of about 1923-1924.
---
Stratton String Quartet & Stanley Chapple piano
George Stratton violin, Carl Taylor violin, Watson Forbes viola, John Moore cello
Schumann: Piano Quintet, Op. 44, 1st movement [file size 22.8MB]
Schumann: Piano Quinter, Op. 44, 4th movement [file size 28.5MB]
[score downloadable from IMPLS]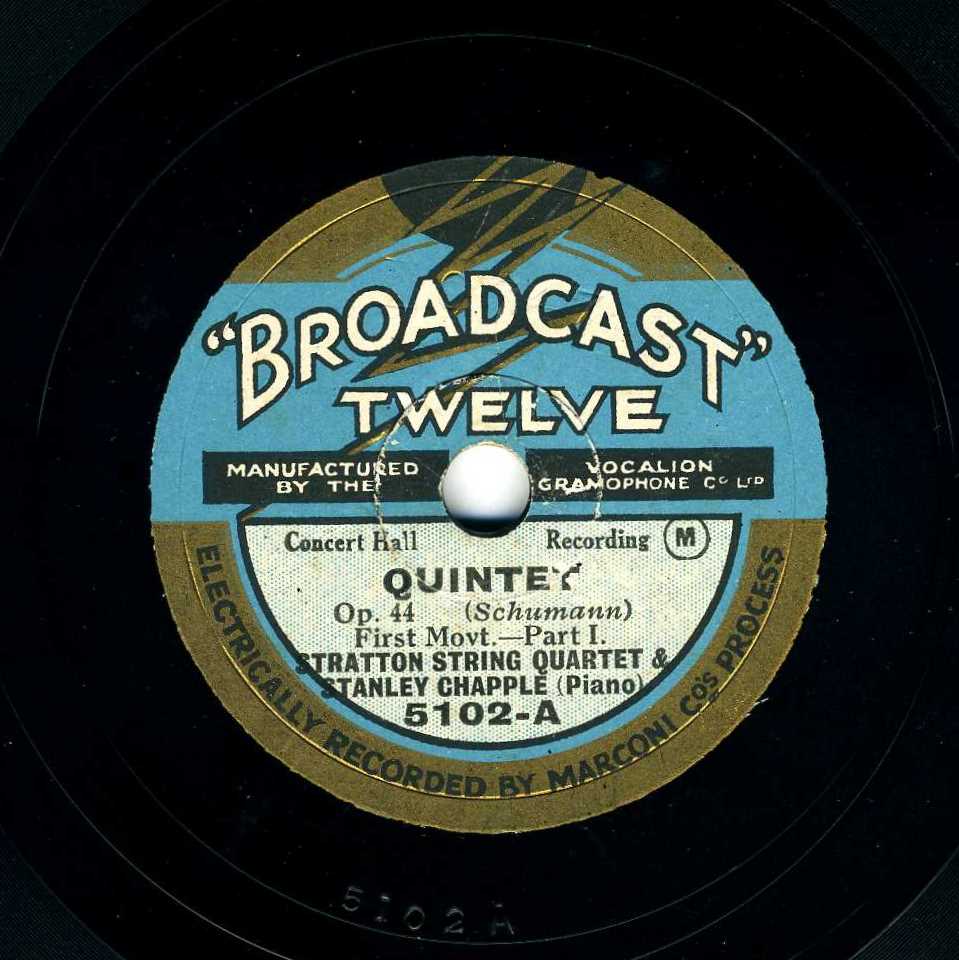 Recorded: Autumn 1929
Matrix: none visible, although the second side of the fourth movement is marked with an 'X' indicating a second take
Cat. No. 5102 & 5103
Format: 25cm (10inch); double-sided light blue and gold labels
Record kindly lent by CharmNick

This recording of the Schumann is unabridged but also incomplete. I have no idea if the second and third movements were recorded but it would seem very probable that they were, but unissued, either through a technical problem (two sides here have cold wax whistle) or that the issue was an experiment that did not result in sufficient sales. Broadcast Twelve was a subsidiary of the British branch of Vocalion Records so it is just possible that some vague idea of a an electric remake of the acoustic version of 1921 was the impetus.
Broadcast Twelve, as the name suggests, was an inexpensive label that managed to record the length of a twelve inch record onto a ten inch format. In order to do this the quality of the record was sorely handicapped and this together with the dreadful grade of shellac used in pressings made things worse still.
WERM has the work tabulated as being issued on four records 5102 to 5105 but this is a mistake.
The reviewer in The Gramophone for November 1929 had reservations but was generally enthusiastic:-
'Here is another pleasant enterprise by Broadcast Twelve— hail a quintet for less than the price of one chamber-music record, at the old prices. What a public there must be for cheap and good chamber music ! I see by to-day's Sunday Pictorial that the N.G.S. offer of surplus stock was seized by thousands, most of whom had to be disappointed. It was a grand gesture, and I knew it would be gladly responded to. In the first movement we get a good measure of these players, and warm to their clean enthusiasm and honest bow-work, as they are obviously doing to their composer. Mr. Chapple is not afraid to let the piano have it. The upper half of his instrument records particularly well, the lower rather less richly The lower strings need a bit more bite and body to balance the upper. One feels care and zeal, but not quite so surely the freedom of long experience and years of knowledge of this and other sides of life. The gallantry of the music comes out to meet one; not so freely its emotional quality, which is not of the kind that spills over; rather, it is (in affectionate embraces of the parts, for instance) the kind of emotion, high and kept well within bounds, that we feel in the less passionate, more deeply friendly characters of Shakespeare. The last movement needs rather more resource and subtlety than these players can yet bring to bear on it. It is not that the work is difficult to understand—only that it asks for old hands, to balance its parts, and work up its climaxes. These younger ones set themselves to the shaping of the music boldly, and in a simple way, have promising success. They are recorded with very much more than 2s. fidelity. Altogether, a couple of records I can praise quite highly, though the surface is rather rough. I hope the work will be completed.'
A full write up on the Stratton Quartet can be found on Wikipedia
---
"Ars Rediviva"
Edmée Ortmans-Bach & Dominique Blot violins
Marcelle de Lacour harpsichord
Noelie Pierront organ
Claude Crussard director
Rosenmüller, Johann: Sonata in E minor [file size 28.5MB]

This is the second sonata from [12] Sonate a 2, 3, 4 e 5 stromenti da arco e altri e basso continuo ~ 1682 [score downloadable from IMPLS]
Recorded: 9 May 1938 at Paris, Studio Albert
Matrix: 2LA 2543-I; 2LA 2544-I
Cat. No. HMV DB 5064
Format: 30cm (12inch); double-sided, red label
Germaine-Louise-Micheline Crussard, , who took as her concert name Claude, was born in Paris Aug. 31, 1893. She came from a musical family, and showed as a child a disposition and talent for music. Around 1902, she took piano lessons with Annette Cortot, who had just finished the preparation of her brother, Alfred Cortot, for his solo career. From 1906, when her family had settled in Angouleme, Claude continued her studies with Lazare Levy and in 1913 she entered the Paris Conservatoire after only a few months preparing for the entrance exams. There she studied History of Music with Emmanuel Maurice, Harmony with Henri Dallier and Counterpoint with Georges Caussade winning in 1924 the Premier Prix de Fugue. After a period of further study and solo concerts, (notably from 1931 to 1933 at Salle des Quatuors Gaveau and from 1933 to 1935 directing the concerts of the Musique intime, attached to Xavier de Courville's le Petite Scene) in December 1935 she founded the company Ars Rediviva. This was to become her life's work.
Diligently and methodically she worked to revive, transcribe and recover much unappreciated and forgotten manuscript and printed music of the seventeenth and eighteenth century. Ars Rediviva performed and recorded, on the BAM and French HMV labels, many compositions that Crussard had recovered, including works by such composers as Albert, Blavet, Blow, Bonporti, Buxtehude, Caldara, Cesti, Charpentier, Couperin, Dornel, Erlebach, Francceur, Guillemain, Hassler, Krieger, Leclair, Legrenzi, Marini, Mazzaferrata, Pergolesi, Purcell, Rameau, Rosenmüller, Scarlatti, Schmelzer and Telemann.
Tragically, just after the War when Ars Rediviva were making a mark on the post war international early music scene, most of the chief soloists were killed in an aircraft accident. Below is a cutting from The Times newspaper reporting the tragic event. [Transcribed from an obituary in Revue de Musicologie, T. 29e, No. 81e/84e (1947), pp. 140-141]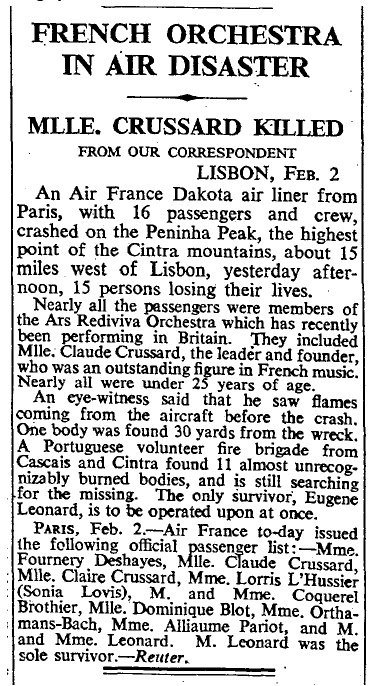 I have been unable to find out much about the other members of the group except the harpsichordist Marcelle de Lacour (1896-1997) a pupil of Wanda Landowska , who was fortunately not on the flight. I do not think any of the Ars Rediviva records have been ever been reissued on LP or CD although a good selection of their other recordings can now be downloaded from the Gallica site
Through the kindness of François Hyenne, whose father was a cousin of Marcelle de Lacour, I have been allowed to add a photograph of this important harpsichordist to to my web page. François told me that 'When … a student in Paris in the sixties, she used to invite me to musical events. She would then introduce me to famous musicians and conductors.' The photograph shows Marcelle and her husband Robert at home in the 1950s. Apart from the harp, a beautiful early harpsichord can be seen in the foreground, to the right what appears to be the keyboard to a clavichord and just visible at the back of the photograph a concert poster, which although only partially visible, probably reads 'M[usic la Re]nais[sance / Marc]ell[e de Lacour]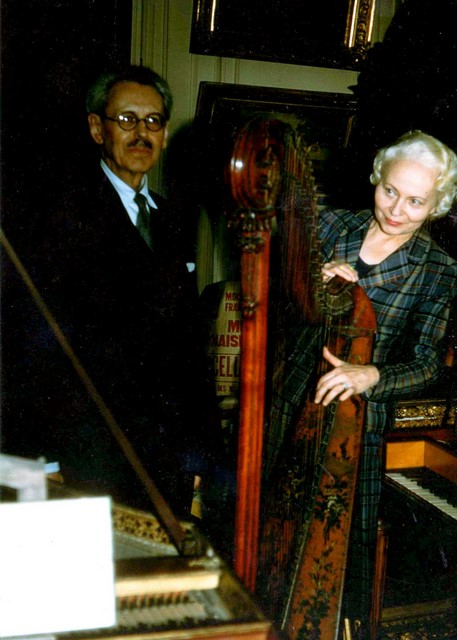 ---
Frederick Thurston, Clarinet & Myers Foggin, piano

Baldassare Galuppi, (arr. by Harold Craxton): Sonata in A minor, Op. 1 No. 3 Largo ~ Sonata in C major, Op. 1 No. 1 Allegro [file size 13MB]
Philip Browne: A Truro Maggot ~ C.H. Lloyd.: Gigue [file size 11MB]
Recorded: 1st .December 1936; poss. London, Thames St. Studio
Matrix: TA2570-III & TA2569-IV
Cat. No. Decca K 858
Format: 30cm (12inch); double-sided blue label
No good excuse for these performances of Frederick Thurston and Myers Foggin being here as a) they have been already issued on CD and b) Browne and Lloyd's compositions are 'modern' works in the style of ancient ones, still they deserve to be heard.
The biography of Galuppi is from wikipedia. The other two compositions are not what we would today class as early music, however, they do conform to what Charles Burney and his contemporaries in the latter half of the eighteenth century would allow to be heard at the Concert of Ancient Music. These concerts had a prohibition of music less than 20 years old so as they fill that criteria and I'm boss of this site, I will allow them a place.
Of Philip Browne I am at a bit of a loss, apart from the present work, three other compositions published during the 1940's and early 1950s for viola and piano, and a choral work available in the 1960s all I have to go on is a review for the printed score of his Truro Maggot:- 'The title of this piece is derived from the old use of the word 'maggot' to denote a fanciful idea and from the fact that at the time it was written the composer was living at Truro. Of moderate difficulty, it is headed allegro giocoso and a full realization of its whimsical humour will require clean execution from both players. It is dedicated to Frederick Thurston, who has performed it publicly and over the radio.' [Tempo, No. 8 (Sep., 1944), pp. 21-22].
The basic facts on Charles Harford Lloyd (1849-1919) are taken from the 1911 edition of Encyclopaedia Britannica 'English organist and composer, was born at Thornbury, Glos., Oct. 16 1849. He was educated at Rossall and at Hertford College, Oxford, where he was one of the founders of the Oxford University musical club, becoming its first president. In 1876 he became organist of Gloucester cathedral, in 1882 organist of Christ Church cathedral, Oxford, and in 1892 precentor and musical instructor at Eton. In 1914 he became organist at the Chapel Royal, St. James's. Dr. Lloyd was well known both as a teacher and as a composer, his best-known work being the cantata Hero and Leander, composed for the Worcester festival of 1884. He also wrote much church music. He died at Slough Oct. 16 1919.'
---
The London String Quartet
Albert Sammons violin, Thomas W. Petre violin, H. Waldo Warner viola, & C. Warwick-Evans cello.
Debussy: String Quartet Op 10 in G minor - 3rd movt - Andantino, doucement expressif
[File size 31MB]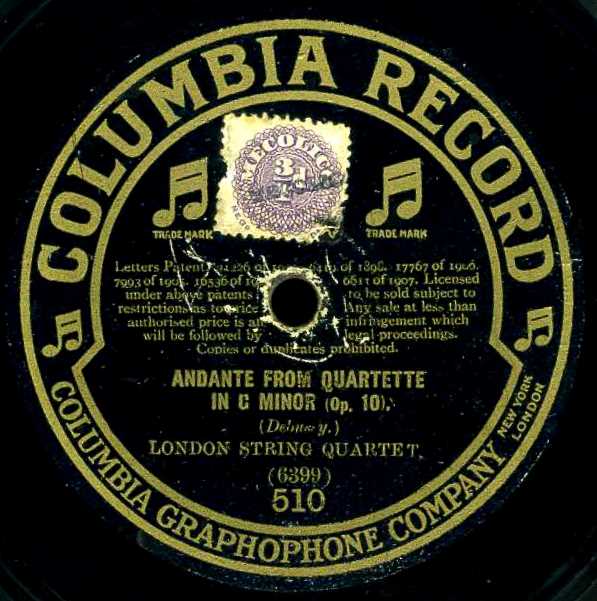 Recorded: 1915
Matrix: 6399-4
Cat. No. Columbia 610
Format: 30cm (12inch); double-sided black labels
The verso of this recording is Grainger's Molly on the Shore which I will get round to transferring one day! However when the Debussy was reissued on Columbia L1004 it was backed with the Tchaikovsky Andante Cantabile given below. I had always understood that the 610 had a different take number to the L1004 but having now played them they are in fact identical and presumably each is take -4. If anyone has any further information of an extant earlier take I would be interested to hear from them.
---
The London String Quartet
Albert Sammons violin, Thomas W. Petre violin, H. Waldo Warner viola, & C. Warwick-Evans cello.
Tchaikovsky: String Quartet No. 1 in D major, Op 11 - 2nd movt, Andante Cantabile
[File size 18MB]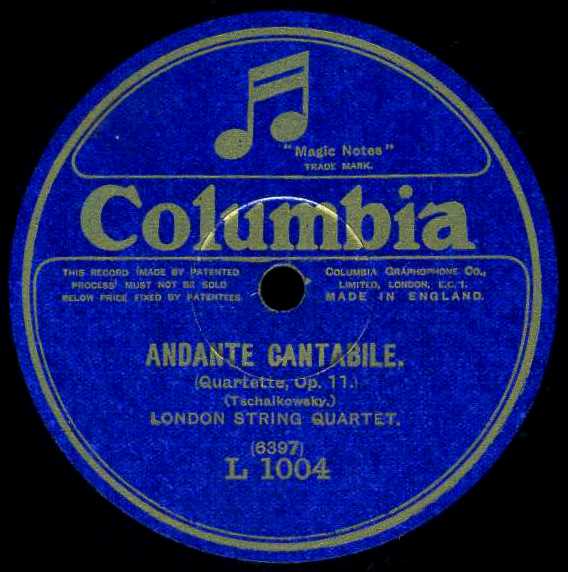 Recorded: 1915
Matrix: 6397-2 or -3?
Cat. No. Columbia L1004
Format: 30cm (12inch); double-sided light blue label
Record kindly lent by CharmNick
---
The Milan String Quartette [Quartetto Poltronieri?]

Haydn: String Quartet Op. 76 No. [Hob.III:76] 'Fifths' - 2nd & 3rd movts. Andante o più tosto allegretto - Menuetto: Allegro ma non troppo
[File size 32MB]
Recorded: October 1929
Matrix: 12489 & 12488
Cat. No. Edison Bell Winner Record 5532
Format: 25cm (10inch); double-sided red labels
Record kindly lent by CharmNick
I can find no reference to a quartet at this period called the Milan String Quartet. It is quite possible that this recording is performed by Quartetto Poltronieri (Alberto Poltronieri, violin Giannino Carpi, 2nd violin Giuseppe Alessandri, viola & Antonio Valisi cello) We know that they where in London area to record in February 1929 for HMV, and in February, April, May, & December 1929 for Columbia. Also one disc, Electron X547 for Edison Bell, reviewed in The Gramophone was reviewed in June 1929 and must have stemmed from a recording session sometime in the first half of 1929.
The Haydn record was not issued until January 1933 when W. R. Anderson, the reviewer of chamber music for The Gramophone, took the record to task [review below]. The date of recording is somewhat conjectural as the files for Edison Bell are no longer extant however, Brian Rust & Sandy Forbes in their British Dance Bands on Record 1911-1945 General Gramophone Publications, 1989 tabulate Ambrose and His Orchestra recording matrixes 12482-2 and 12483-2 on or around the 30th September 1929. If anyone has any further information of the whereabouts of the quartet in September and October 1929 or any information a to who the Milan Quartet I would be very interested to hear from them
Edison Bell issues a 10in. record, 5532, 1s. 6d., of the two middle movements from Haydn.'s Op. 76, No. 2, played by the Milan Quartette (sic). The labeling is a pretty piece of mis and mal-information. The number is wrongly given as 72, and the labels are on the wrong sides. Moreover, the one which says simply "Allegro" would suggest that it indicates the first movement—the only one to which the composer has attached this single word : but it is the Minuet (why not call it that?), which is marked by Haydn "Allegro ma non troppo." Is this one of the traps for critics that have sometimes been proposed for the humbling of the proud? Goodness knows there are plenty we can fall into – speaking for myself: but it is tiresome to have to hunt up these things, and memory isn't always instantly on tap to tell one which work really is being played. So I hope E.B. will be merciful in future. The Minuet (familiarly called the Hexen) is in canon. In the first part two lower parts, in octaves, chase the two upper at a bar's distance, like a Doppelganger. The Trio keeps up a dogged keynote-pedal, with a strong dose of the dominant one for a change, in the middle. It might be played with more accentual devilment. The slow movement is nicely touched, but its middle section is omitted. With all hearty goodwill towards the providers of cheap good records, such as this, I make the strongest possible protest not against the cut itself, but against its not being mentioned on the label. There ought in enlightened days to be no possibility of a cut version not being known as such ; and it must be knowable in the only practical way, not by information in leaflets or catalogues, but on the label, where the buyer can see it.
---
The London String Quartet & Alfred Hobday, 2nd Viola.
Albert Sammons violin, Thomas W. Petre violin, H. Waldo Warner viola, & C. Warwick-Evans cello.
Mozart: Quintet in G Minor K. 516

[File size 72MB]
Recorded: 13th June 1917
Matrix: 75933-1; 75934-2; 75935-1; 75936-2; 75937-2 & 75938-1
Cat. Nos. Columbia L1362, L1363 & L1364
Format: 30cm (12inch); double-sided light blue labels
Speeds 77.0; 79.5; 78.5; 78.5; 81.5; 80.0 rpm [A=440Hz]

---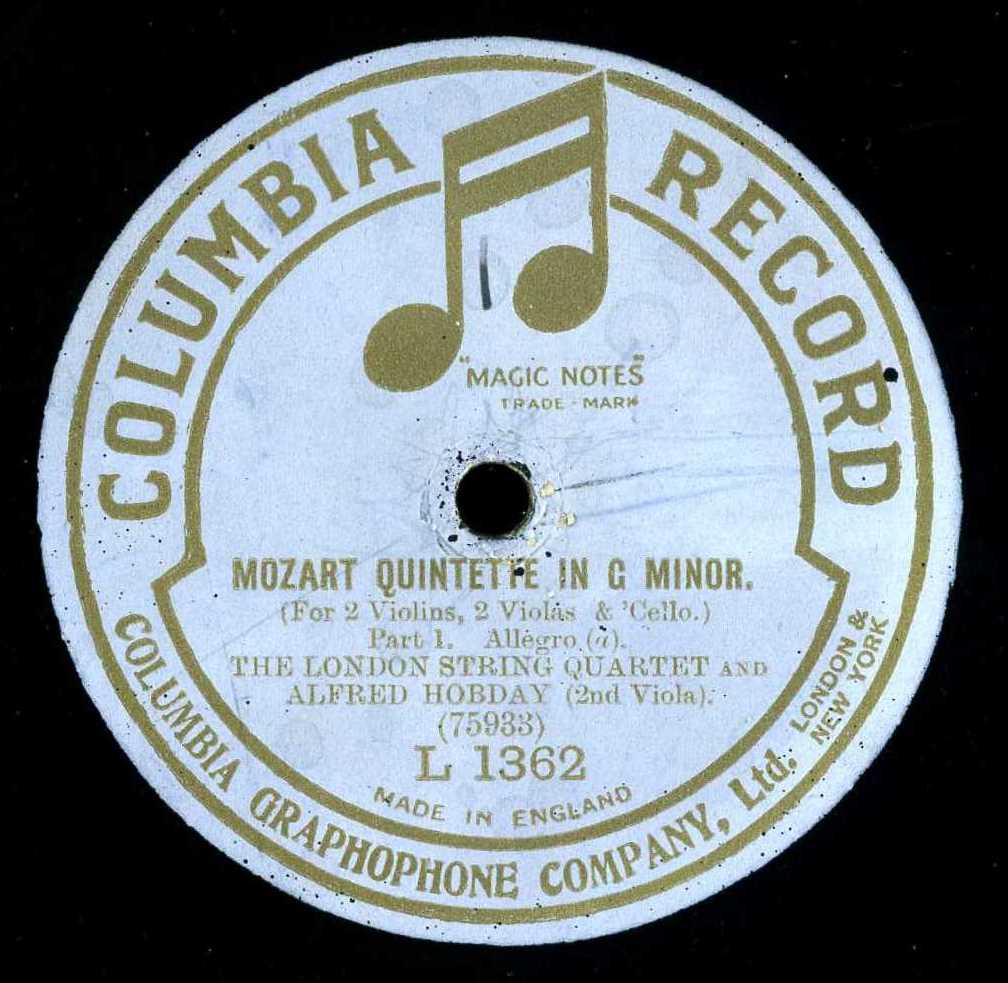 ---
The London String Quartet was considered one of the finest quartets and it is sad that so few of their recordings have ever been reissued. Despite the cuts [about a third of the score is missing in this performance] it was, and will I hope still be considered, one of the finest recorded performances of Mozart's K.516. Alfred Hobday recorded the quintet again with the Pro Arte Quartet in the 1930s. The speed fluctuations between sides is quite unusual and maybe due to the recording 'experts' being distracted by bombs dropping around them [see articles below].

As a supplement I have also uploaded the only sound recording of the Great War. A number of waxes were cut of the Royal Garrison Artillery sending off as shell into the German lines, one of these waxes was then 'transferred' via a primitive link mechanism to another recording machine at the studio in Hayes. Presumably the a coda advertising War Bonds was appended at the Hayes studio .

Gas Shells bombardment near Lille

[File size 6MB]

Recorded: 9th October 1918
Matrix: HO 3479 af
Cat. Nos. HMV 09308
Format: 30cm (12inch); single-sided black label
Extract from 'Behind the Needle-VI! looking back over the Gramophone by Herbert C. Ridout' Gramophone January 1941 p. 5 - Many thanks to 'NickCharm' grumpyclassics.blogspot for pointing this article out to me.

The first of these British celebrity records on our lists were all recorded under war conditions and in one instance artists were actually recording on the top floor at Clerkenwell Road when bombs were falling. This was the first air raid on Wednesday, June 13th, 1917, and the artists were Albert Sammons, Thomas W. Petre, H. Waldo-Warner, C. Warwick-Evans (the London String Quartet), with Alfred Hobday. They were recording the Mozart Clarinet Quintet in G minor.
Suddenly, without warning, there was a loud crash some distance away. The men went on playing. Another crash, and another. Still they went on playing. Another explosion—again and again. Then, at the end of the movement, they paused. " Let's finish the work," said the recording engineer, Arthur Brooks, and all through the air raid, with the bombs dropping less than half a mile away, the quintet continued, and the records turned out to be some of the most perfect the London String Quartet ever made.
When I recalled the incident to Albert Sammons recently, he said, "If we could only have recorded the sound of the bombs dropping in the middle of it we would have sold thousands of the records."

Article entitled 'Violin Records' written by Albert Sammons on pages 218-219 of the April 1924 issue of the Gramophone

It must he a joy to musical people who have gramophones to watch the great strides which are being made in the manufacture of records of classical music, and to be able to sit at home and have whole symphonies by an orchestra or a whole sonata by violin and piano at a moment's notice and without much trouble.
One critic said that it wasn't always possible to pick out the melody in the piano part, and that the violin should keep under in parts to allow the piano a chance to stand out more clearly in its solo passages. This, however, is no fault of the ensemble of the players; both Catterall and Murdoch are past masters of chamber music playing, but to have as perfect a performance as one could get on the concert platform would entail more than the present amount of expense and work allowed for recording. It would be necessary to have two or three finished
I don't make a point of hearing records up-to-date, but I can at least recall some old records that hold their own with the best new ones. The quintet of Schumann, played by Mrs. Hobday and the London String Quartet, is remarkably clear and well balanced, as is also a piano quartet of St. Saëns, in which Mark Hambourg and Miss Marjorie Hayward played.
Out of something like one hundred chamber music records I have taken pert in, I am most pleased with the string quintet of Mozart in G minor, for two violins, two violas, and 'cello made under interesting circumstances during the war. Messrs. Petre, Waldo-Warner, Warwick-Evans, Alfred Hobday, and myself recorded this work on the morning of the first daylight air raid over London. We were startled by a loud report, but thought it was nothing more than a burst motor tyre: but on hearing a second and louder report, and seeing people running about in the street below, we knew what was taking place. After all was over we returned to our work, and struck a lucky hit in making a splendid record of the aforementioned work. I say lucky, because of the different position in the seating formation of the quintet. A lot is left to chance, when more than two players join forces, and are crowding into a small space with scarcely bowing room, etc.
It will be welcome to the string artist when the demand for chamber music records is as great as the demand for the light solo pieces which are so plentiful in the lists of gramophone records. One must not blame too readily the players for the fact that classical records are in the minority. After all, they have to consider the sale of records being a commercial proposition, and if too much high brow music is recorded, and small sales result, their services would not be required by the various gramophone companies who have to cater for the majority. I suppose out of all the violin solos recorded Dvorák's Hurnoreske would outnumber six times the sale of any other violin record.
Still, my reason for writing is to show that things are changing for the better, hence the increase of classical items in the gramophone catalogues; and, further, that success in the sale of classical records means increase in the attendance at classical concerts, since people will want to hear and see the artists in the flesh.


---
The London String Quartet
Albert Sammons
violin
, Thomas W. Petre
violin
, H. Waldo Warner
viola
, & C. Warwick-Evans
cello.
Schumann: Quartet in A major, Op. 41 No. 3
[File size 47MB]
Recorded: 1917
Matrix: 75408-2 75407-2 75410-2 75409-1
Cat. Nos. Columbia L1199 & L1200
Format: 30cm (12inch); double-sided light blue labels
Speed 84.25rpm [A=440Hz]

This is a somewhat abridged recording, probably about half was let go, so you might need an understanding ear. Sammons recalled in an article in The Gramophone that the two violinists played into one horn and the placement of the players was such that it was difficult to communicate. Probably a three horn combination was used, however, as these recording techniques were trade secrets it is difficult to be sure what pressures the soloist where under on the day of recording- maybe we should just be thankful we can hear anything. I have pitched the recording at A=440hz but can't be sure if this too high or indeed too low but it seem to sound all right The matrix numbers show that the players began the recording with the second movement and proceeded through the first, final and third.


---
Although this article from the The Musical Times, 1st August 1922 is later than the recording, it give a good idea of the history, thinking and repertoire of this important quartet.
BRITISH PLAYERS AND SINGERS VII.-THE LONDON STRING QUARTET
Exquisite instrument of exquisite music, the string quartet! The four various voices of four equal minds must sing with a surface-play of animated rivalry which, however, is anchored in a radical unity. Mutual faith, trust, dependence, have nowhere else in mankind the ideal illustration afforded by a first-rate string quartet; a team wherein the thrown-off phrase is always infallibly caught, to be as elegantly thrown forth again, and the communal movement persists relentlessly while this or that individual gambols. It is like a game of ball played by cherubs as they effortlessly fly! If music generally is the expression of the ideal world, then the string quartet speaks for some particularly sublimated corner of that ideal. The ideal string quartet would at first glance seem unapproachable in this world of fallible matter. How shall sixteen strings of gut and wire preserve utter justness of tunefulness, any falling from which is straightway declared in their thin, transparent harmonies? How shall four mortals drop Adam's heirlooms of individual perversity and unbrotherly dissension for this cause, when for no other known cause can they be dropped? The brothers Goncourt wrote together harmoniously, but they were only two. This quatuorvirate-four in one and one in four-is possibly humanity's as yet most fruitful grasp at the Perfections.
THE LONDON STRING QUARTET
It is of a piece with the rest of modern English musical history that for long we looked on while others occupied this field, and that in the writing and in the playing of string quartets it has only lately occurred to us to put forth some strength and (with distinction) to win some considerable ground. Purcell's String Quartets are not published. Between him and Parry and Stanford what was there? (Onslow composed quartets, but they are forgotten, and then, he was half a Frenchman.) The composers seem to have arrived before the executants of rank. With the 20th century the trickle of English chamber music became a flood, and after a few years there were parties of English executants to play it. Now there are half-a-dozen distinguished English quartet parties. None will feel slighted if the London String Quartet is put at the head of them. It is the L.S.Q. which so far has been able to give the most undistracted attention to the arduous field, and has succeeded to the satisfaction of both worlds. The London String Quartet- James Levey, Thomas Petre, H. Waldo Warner, and C. Warwick-Evans-is a Quartet that has reached the ideal of doing nothing in life but this, eliminating the usual teaching and orchestral work. And it has been the first to win regard for English chamber music in foreign parts-at Paris and in Spain, Holland, and Scandinavia, then (and most resoundingly) across the breadth of the United States. It happened to be Mr. Waldo Warner who amiably spoke of the beginnings and of the career of the Quartet for the purposes of these pages, but such are the united intentions of the happy band, that he may be considered as speaking for all four. Violoncello and viola were the first to put their heads together for the making of the L.S.Q.: 'It was in 1908 [said Mr. Waldo Warner], and Warwick-Evans was leader of the Queen's Hall Orchestra violoncellos and I was first viola in the New Symphony Orchestra. The idea was Warwick-Evans's-the idea of a string quartet that should be worked up to the pitch of excellence of a solo virtuoso. He first spoke to me, and I was all for it. 'Music has been my life-interest ever since I can remember a thing. As an infant I cried for music, I am told, and at three years old I played the accordion to the entertainment of my father's friends (this was at Northampton, where I was born). We came to London when I was a small boy, and at fourteen I entered the Guildhall School of Music-I was under Alfred Gibson for violin and Orlando Morgan for composition. I worked at the Guildhall for about twelve years. It was quite by chance that later I took to the viola. At a music school at Beckenham I was asked to give viola lessons when, though of course I knew the clef, I had hardly held a viola in my hand. Not long afterwards I was-through my good friend the late John Saunders-invited to be principal viola of the "New Symphony." 'There is no other pleasure in music like quartet playing, I have always felt. Compare it with the drudgery of orchestral rehearsals! In 908 I was enthusiastic, and (although there have been much hard work and hard struggles in the meantime) I am as enthusiastic now, fourteen years after. Petre, whom Warwick-Evans found, was the first of the violinists to come in, and then, after a little, Albert Sammons was invited to lead: then we started to work. We made up our minds to slog-slog-to the point of exhaustion. We decided it was no use exhibiting our-selves in an unfinished state, and we rehearsed four times a week for nearly two years before we gave a concert. 'From the beginning we have always held that there should he no "boss" in the Quartet. We have always been on an equal footing, if anyone disagrees with tempo here or phrasing there he speaks out. The point is discussed, and the decision made, if necessary, by voting. I do not think that any of us in 908 treasured illusions about any tremendous material rewards awaiting good quartet playing-we did it for pleasure, no doubt. Really to-day-when we are not "doing badly"-there are moments when it seems that mine is an oddly exceptional life, to be paid for what I most enjoy doing ! 'When we played at the first concert, January 26, 1910, at Bechstein (Wigmore) Hall, we called ourselves the " New" Quartet. The programme was: Dohnanyi in D flat, Tchaikovsky in D, and a Fantasy Quartet (No. i) of my own. We fetched the newspaper critics first go-off, and their compliments were our reward for the previous two years of preparation. Our next concert, in June, 1910, was of Debussy in G minor, the first of Beethoven's Rasoumovskys, and a Fantasy of Balfour Gardiner's. We early saw that "New" would soon be a superannuated name, and Warwick-Evans suggested calling ourselves the " London "-a bold suggestion, but it gave us something to live up to!'
THE L.S.Q. IN WAR-TIME
'The war came and, of course, affected us a good deal. Warwick-Evans and I could not serve for reasons of health. Petre joined the Army, and was in France. His place was temporarily taken by Wynn Reeves, then by Herbert Kinsey, and then by Edwin Virgo. But, of course, Albert Sammons's departure was the chief change. It had been foreseen for some time. He was winning such a great name as a solo violinist that it was clear he would not always have enough time free for quartet practices-and practices, hard, long, and above all regular, are the prime secret of quartet playing. If rehearsals are dropped only for a week the ensemble suffers. Even when the L.S.Q. has been touring in America, travelling all day and giving a concert nearly every night, we find occasion to rehearse a little daily. Albert Sammons was also, in the war, a good deal engaged in playing in the Grenadiers' Band, and could not always be free when he wanted. 'In the first year of the war (May, 1915) we began our chamber music " Pops.," which were meant to be a revival in a modern spirit of the old St. James's Hall chamber concerts. There was something in the air of war-time London favourable to chamber music. Many seemed to have found it necessary as a temporary escape from reality, and the same people came again and again. By May, 1917, we had reached the fiftieth of the series. They were carried on during the first summer after the war, but then there was a change. The spirit of the time turned in favour of all the more showy gaieties. The last of our "Pops.," on July 17, 1919, was the hundred and seventeenth. 'Half way through the series Albert Sammons had gone, naturally with the regrets of us all, and at the fifty-seventh " Pop.," on July 14, 1917, James Levey, our present splendid leader, took his place for the first time. He is a Londoner, and was a pupil of Ferdinand Hill. At this first concert he played at only three days' notice.' THE L.S.Q. ABROAD Early in the L.S.Q.'s career, visits were paid to Amsterdam and Paris. The Quartet has now given six concerts at Paris, and has been three times to Spain and three times to Scandinavia. Mr. Waldo Warner was asked for his views on his foreign audiences: 'The Parisians [he said] make delightful audiences, so keen and so cordial, only there is this little peculiarity-it never seems to occur to anyone to pay for concert tickets. It is taken for granted that (at least for chamber concerts) free tickets will be liberally scattered. English friends to whom I have spoken of Spanish audiences have nearly always been surprised at the musical enthusiasm and connoisseurship that have so struck me there. Spaniards go to concerts in extraordinary numbers. At one Barcelona concert we had an audience of four thousand five hundred-five hundred of them standing. And the Spanish audience is singularly "on the spot"-and makes you feel it. For instance, I remember we were playing Schubert's Death and the Maiden Quartet, and there is a passage in the 'inale where the first violin has a descending, unaccompanied solo-decrescendo, decrescendo-like this [and Mr. Waldo Warner whistles]: (Presto.)

&c. and when at the bottom of the descent the other strings come in with the principal D minor subject, we make a point of playing it pppp ! This seems to have been something new at Barcelona, and there was such a general gasp and murmur that I for one thought there must be a mishap of some- sort in the hall, perhaps a threat of fire!' Mrs. Elizabeth Coolidge, of Pittsfield, Massachusetts, celebrated for her encouragement of music, introduced the L.S.Q. to America. She invited the party to her annual Festival at the 'Temple of Music,' near Pittsfield, in September, 1920, and they played Frank Bridge's E minor (Bologna) Quartet, Beethoven in E minor, and Mr. Waldo Warner's Folk-song Fantasy. This was followed by a New York concert, instantaneous success, and engagements all over the country, as well as in Hawaii. In the summer of last year Mr. Waldo Warner won Mrs. Coolidge's annual chamber music prize of a thousand dollars with a Pianoforte Trio; a prize which in previous years had been won by Malipiero with his Rispetti Quartet, and by Ernest Bloch. Mrs. Coolidge, by the way, is now opening her competition every second year, while in alternate years she is commissioning works of chamber music. She has requested compositions of Mr. Eugene Goossens and Miss Rebecca Clarke. Mr. Waldo Warner's Coolidge Trio is about to be published by Ricordi. Mr. Warner is the composer of some hundred songs and part-songs, an opera, The Royal Vagrants, produced at the Guildhall School, two musical plays, two Orchestral Suites, three Fantasy Quartets, (published by Cary, Novello, and Ricordi), and a Quartet in C minor (Ricordi), Pixy Ring, a Suite for string quartet, and three Pianoforte Trios. The American success of 1920 meant renewed engagements all over the United States, and also in Hawaii last winter, and a return there in the coming season. 'Before crossing the Atlantic, we are to go again to Spain, and after the American tour we go on to Australia, and so shall be away from home for eighteen months.'
HOMAGE TO BEETHOVEN
And what of the music they play ? Mr. Waldo Warner can admire many masters, Mozart and Brahms, Schubert and Debussy, but, as befits a true 'quatuorvir,' his divinity is Beethoven. 'It was Mr. Simpson (of Methven & Simpson, Edinburgh) who first suggested that we should give a week of playing all the Beethoven Quartets. That was in I920. After Edinburgh we gave the cycle in London, and then at Stockholm, Christiania, and in America-in all ten cycles, including three in London. 'I think I shall never get beyond my awe at the architecture and the wealth of the Beethoven Quartets. I am not a Beethoven idolater to the point of not seeing that he sometimes wrote poorish music. Possibly even some of the movements of the Symphonies are not so lastingly great as they might have been. But as for the Quartets, one never seems to come to the bottom of their wonders. They are in-exhaustible. And so far from "familiarity breeding contempt," my feeling is that the more one works at them the more one may, and one can go back to a quartet one knows as well as anything on earth and still quake almost at the idea of pretending to rise to the immensity of the thought that is in this music. Beethoven, more than anyone, makes his executants feel small! Even the Op. 18 Quartets ask for as much thinking about as anything written by earlier or later composers. As to the late Quartets, when I hear people decrying them I reflect that I, too, at one time thought the C sharp minor unattractive. Isn't it really a question of knowing them? I still am not quite clear about the Grand B flat Fugue, but I have never heard it apart from playing it. My wife-and she has heard nearly every performance the L.S.Q. has given, and is a great judge of quartet-playing-tells me that it grows on the listener, that it really does " come off."' The London String Quartet has played a great deal of English chamber music, and notably has made works by Mr. Frank Bridge and Mr. J. B. McEwen known far and wide. 'Bridge in E minor and G major [says Mr. Waldo Warner] and McEwen's Biscay and Threnody Quartets have really become favourites. We gave the first performance in London of Dame Ethel Smyth's Quartet. The repertory of the London String Quartet has comprised the works of Haydn, Mozart, Beethoven, Schubert, Mendelssohn, Schumann, Brahms; one quartet of Boccherini; and, in modern music, works by Frank Bridge, three string quartets, pianoforte quartet, pianoforte quintet; Dyson, string quartet; J. D. Davis, two string quartets and Variations on the Londonderry Air; Walford Davies, Peter Pan Suite; Delius, string quartet; G. Dorlay, string quartet; Elgar, string quartet, pianoforte quintet; Percy Grainger, Molly on the Shore; Balfour Gardiner, string quartet; Goossens, string quartet and small pieces; Armstrong Gibbs, two string quartets; Holbrooke, two string quartets, quintet, sextet, pianoforte quartet and quintet; Julius Harrison, quintet for pianoforte, harp, and strings, clarinet quintet; Herbert Howells, pianoforte quartet; Arthur Hinton, pianoforte quintet; Ketelbey, quartet; Levine, quartet; J. B. McEwen, four quartets; Norman O'Neill, quartet; Cyril Rootham, string quintet; Ethel Smyth, quartet; J. Speaight, quartet and small quartet pieces; H. Waldo Warner, four quartets and Pix, Ring Suite; R. Vaughan Williams, quintet and On Wenlock Edge song-cycle, and pieces by Donald F. Tovey, Wolstenholme, Haydn Wood, Sir Charles Stanford, Arensky, Debussy, Dvorak, Dohnanyi, d'Erlanger, Faure, Franck, Glazounov, Grieg, Ravel, Scontrino, R. Strauss, Schonberg, Smetana, Svendsen, Steinhammer, Schafer, Tchaikovsky, Turina, Hugo Wolf, Wolf- Ferrari, Guy Weitz, Saint-Seans, and Stravinsky).
---
Arthur Catterall - violin & Hamilton Harty, piano
Mozart: Violin Sonata in A for violin & keyboard, K. 526
[File size 54.7MB]
Recorded: 27th April 1923
Matrix: 76961, 76962, 76963, 76964, 76965 & 76966 [all take 1]
Cat. Nos. Columbia L1494, L1495 & L1496
Format: 30cm (12inch); double-sided light blue labels
Speed 82.5rpm

---
Review by James Caskett from The Gramophone, October, 1923 p. 97.
I had written my note on Mr. Catterall's other record before I discovered that I was to have the pleasure of listening to three more records of his playing, and that my not very confident prayer had been granted that he would give us something better than any Perpetuum mobile. Mr. Catterall, Mr. Hamilton Harty and the Columbia Company are all to be congratulated on these delicious records. As one listens to this civilised, graceful and distinguished music one cannot help regretting for a moment that music ever became sophisticated and learnt to express suffering and the sense of sin. Nothing so much as Mozart's music suggests the charm of the eighteenth century, and although his music for solo instruments, except that for the harpsichord, cannot, I think, be regarded as his highest achievement, it is nevertheless often, as in this example, full of charm and delicacy. I have had, I think, more pleasure from these records than from any I have heard for a long time, even though I have been able to hear them only twice, since they arrived as we were going to press.
Review by 'Discus' from The Musical Times, Vol. 64, No. 969, 1st November 1923, p. 785.

Chamber music is a good line this month. Not often are we so favoured as in the Columbia Company's three I2-in. d.-s. of Arthur Catterall and Hamilton Harty playing Mozart's Violin and Pianoforte Sonata in A, Op. 8, No. 1. The clearness and purity of tone are delightful, and in regard to balance I have only one fault to find. In the Finale the violin is too prominent at the opening, where the pianoforte has the more important part. A word should be said on the excellence of the pianoforte tone. Why is it that all through this long work we get scarcely a jarring note? Probably because Mr. Harty, being engaged in an ensemble performance, plays instead of hitting. We rarely find bad tone in records of good song accompaniment; only when great pianists-the very people we should look to for tonal beauty-get to work do we suffer from jangling.
---
Links to Wikipedia articles on the Catterall, Harty, and composition