Instrumental
Recordings are in FLAC format downloadable through MediaFire by clicking on each title.
---
Marie Novello
Debussy: Gollywogg's Cake Walk
[File size 9 MB]
Debussy: Clare de lune
[File size 8 MB]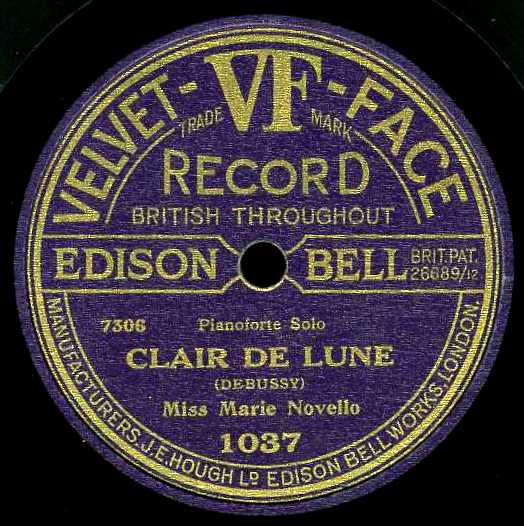 Recorded: early 1923?.
Matrix: 7306 & 7307
Cat. No. Edison Bell Velvet Face 1037
Format: 25cm (10inch); double sided purple label
A few day before Damian's 78s uploaded recordings of Marie Novello [see Wikipedia], I came across this record of two of Debussy's most popular piano pieces.
---
Anderson Tyrer piano

Granados: Seis piezas sobre cantos populares espanoles
No 2 Ecos de la parranda [file size 11MB] SM [file size 21MB]
No 3 Vascongada [file size 11MB] SM [file size 21MB]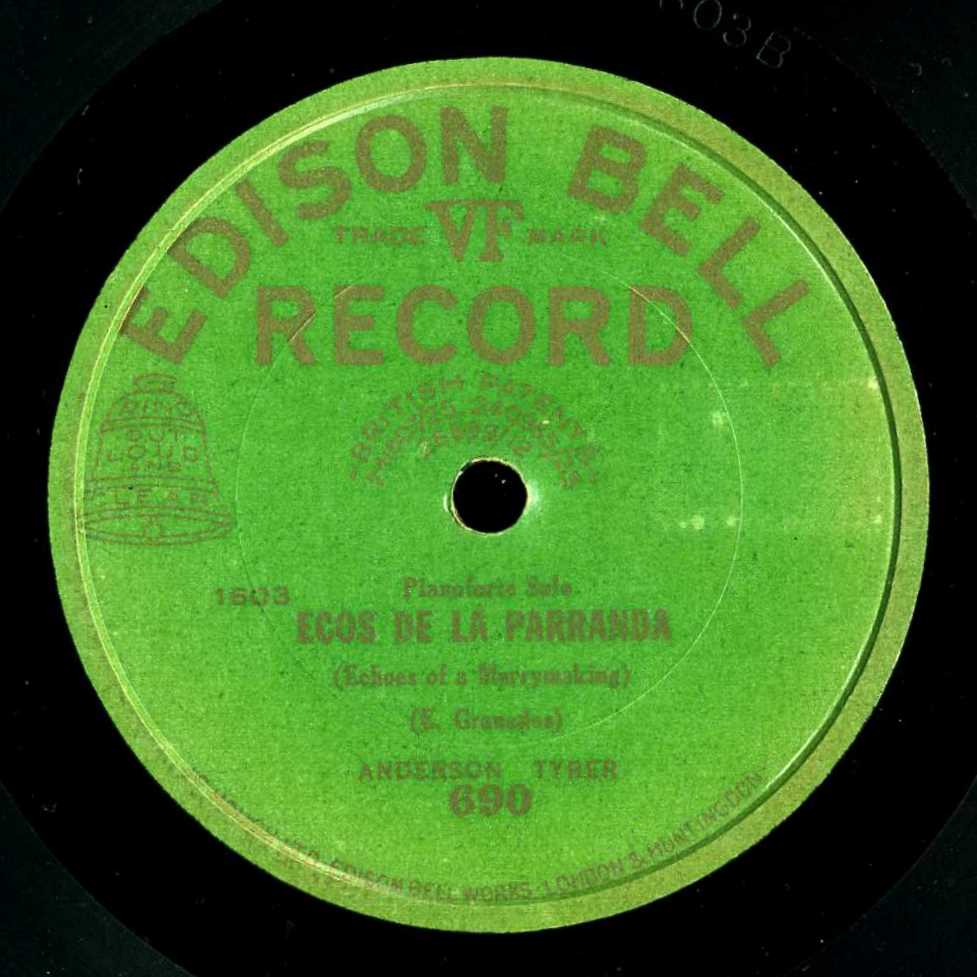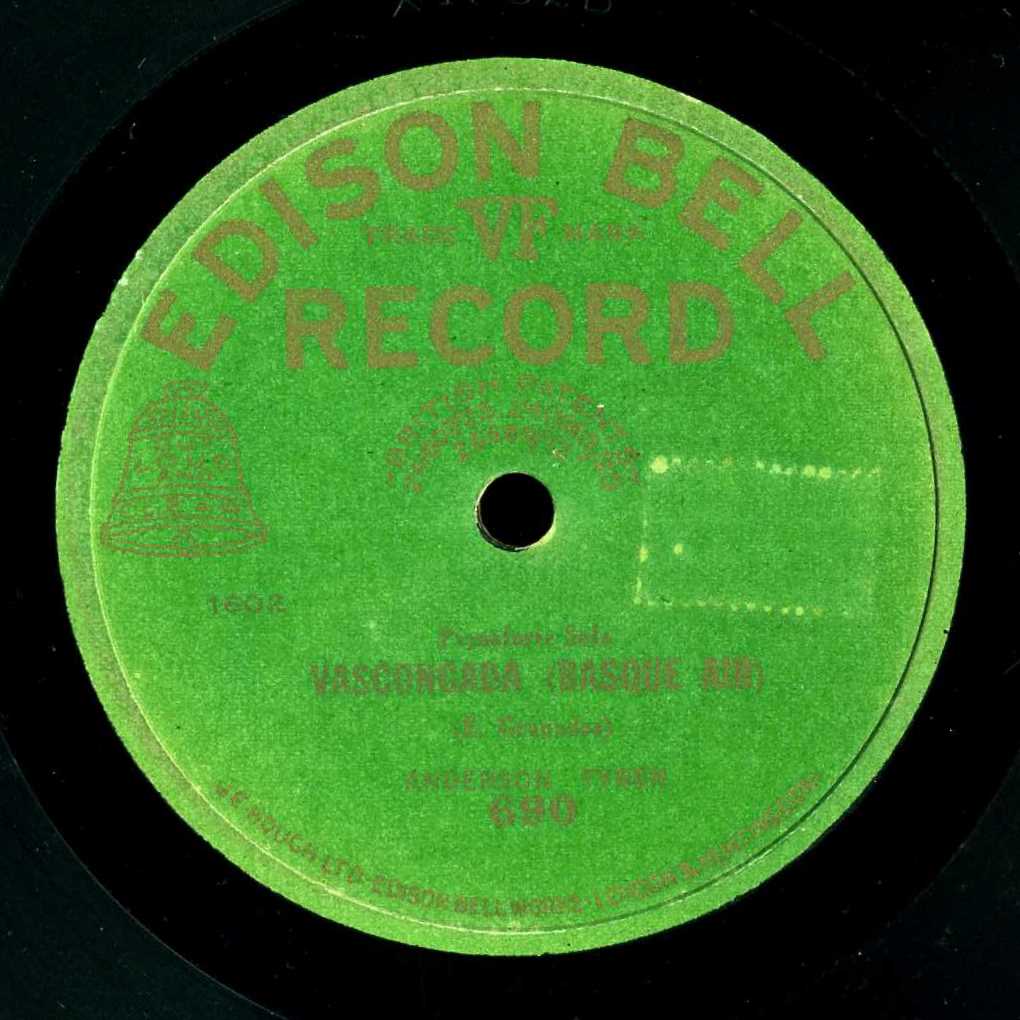 Recorded: 1925
Matrix: X1602-B & X1603-B
Cat. No. Edison Bell Velvet Face 690
Format: 30cm (12inch); double-sided, light green
[Frank] Anderson Tyrer (b. (England) 17 November 1893, d. 1962) was an English concert pianist active during the 1920s.

Tyrer studied at the Royal Manchester College of Music, where he won a scholarship of four years from the County Council. He was apparently a pupil of W.H. Dayas and played Tchaikovsky B flat concerto at a Concert on 17th April 1913 and again on April 2nd 1914 together with a performance of a his Fantasie for violin and orchestra. The Musical Times [MT] reported 'The solo part [played by Frank Tippin] is rather too frequently overweighted, but this apart, the compose is felt to be quite sure of himself' On the 9th July 1914 we find him playing Brahms: A minor String Quartet with Harold Warburton & Frank Tipping as part of the Royal College of Manchester's summer examinations. Later that year Musical Times [MT] records 'In the hinterland of Ancoats region of mill, warehouse, and foundry, there are to be given a dozen concerts for 5s. 6d., which, quality considered, surely cannot be equaled anywhere. Last autumn the seats were sold in advance, and no single admissions could be taken. These concerts of "Musical appreciation," as they are styled, opened on October 7, when Messrs. R. J. Forbes and Anderson Tyrer gave an evening of pianoforte music for four hands, an experience never met with in Manchester before, I think.'

Tyrer I believe served with the Royal West Kent Regiment during the 1914-1918 war but was performing again in the Midlands from 1917, His career continued to centre around Harrogate, Leeds, Manchester and Birmingham but on the 11 November 1919 he made his debut at a Promenade concert under Thomas Beecham, playing the Rachmaninov second concerto 'The occasion was the first of four orchestral concerts (on November 11th) by Mr. Anderson Tyrer, a young pianist from Lancashire, for whom, by reason of his ample technical acquirements and his vigorous temperament and artistic taste, a fine future may be predicted.' [MT].
I am still trying to plot Tyrer's life and for now here are some brief notes including bits plucked from Wikipedia.
I have a note that Tyrer suffered from 'nerves' which may have been a result of the 1914-1918 war. Over the next four years he gave a series of orchestral concerts in the Queen's Hall, London, playing concerti by Beethoven, Rachmaninoff, Grieg, Tchaikovsky, Arensky, Liszt and Mackenzie. He also played the piano part in Scriabin's Prometheus several times. Well known in the southern hemisphere as an examiner for Trinity College. In 1939 Tyrer represented Macclesfield and Blackpool in the distribution of Trinity Collage of Music prizes and certificates. He was the founding conductor of the New Zealand National Orchestra, now the New Zealand Symphony Orchestra, from 1946 to 1949. Returned from Sydney Australia with his wife Laura, to England in January 1954. First performance in London of Henri Martelli's Sonatine, Wigmore Hall. February 6th 1955. Died on board a ship heading back to England from South Africa in 1962.
The Gramophone of November 1926 did not review the record well. 'These tunes may be of interest to those who approach music from an ethnological standpoint, but in themselves they strike me as dull. This is a pity, for the performance is quite adequate and the recording, apart from a trace of " blast " near the end of Vascongada, exceptionally good.'
I am unaware of another recording of these pieces by Granados until the 1950s.The copy I have is somewhat worn, partly due to a misaligned centre hole which has in turn exaggerated the wear into a swishing sound. As with the recording of Marie Novello the sound is akin to listening to a large piano in a small bathroom. Tyrer's performance is quite different from later interpretations.
---
Raymond Trouard piano
Liszt: Hungarian Rhapsody No 6 in D flat [file size 11MB] SM [file size 21MB]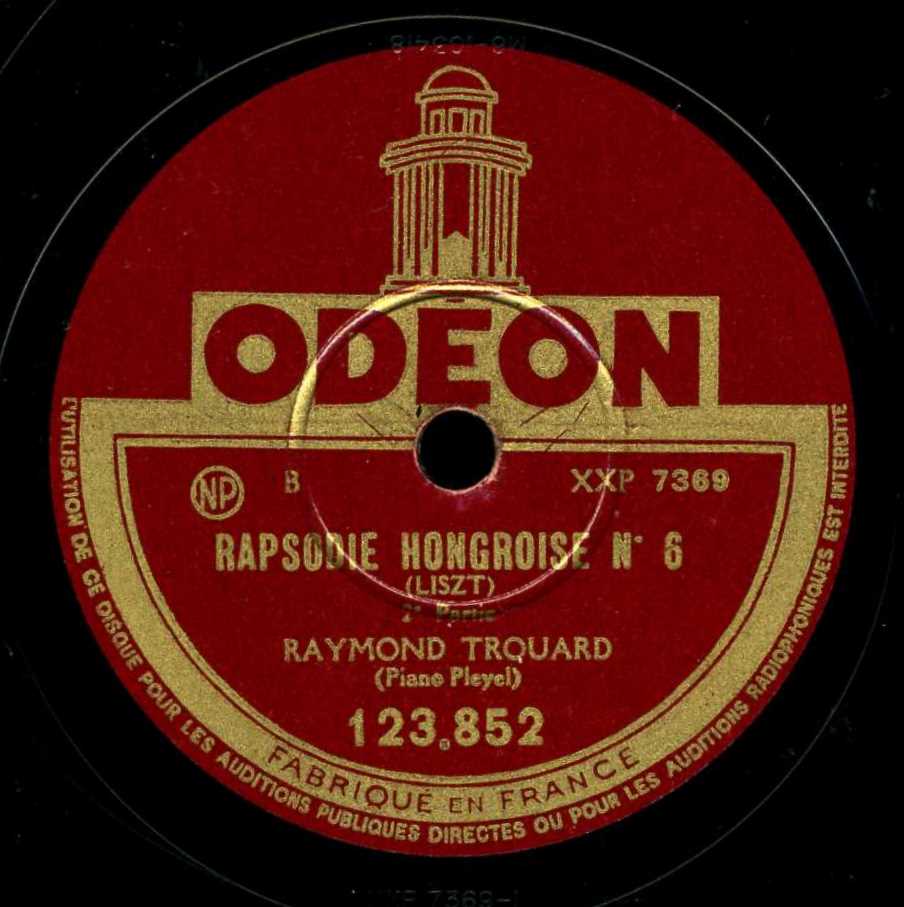 Recorded: 4 April 1942 at Paris, Ancien Conservatoire
Matrix: xxp 7368-1 & xxp 7369-1
Cat. No. French Odeon 123 852
Format: 30cm (12inch); double-sided, brown

Raymond Trouard ( 9th August 1916 - 17th December 2008) was a student of Joseph Morpain, himself a pupil of Fauré, at the Conservatoire de Paris, and later of Emil Sauer, a pupil of Liszt. In 1939 Trouard won the prix Louis Diémer that launched him on an international career or rather it did once the war ended in 1945. He was from 1969 to 1985 a teacher at the Conservatoire national supérieur de Paris.
Most of Trouard's recordings have recently been reissued on an 11 CD set, however the wartime Odeon series was not included. The shellac used for these records is awful and must have been made from some wartime mixture that included recycled records. I also think that the technical side of the records is a bit suspect, with no recordings having been made by Odeon in the xxp series since the early 1930s one feels the studio may have been reopened in less than ideal circumstances with Paris under German occupation.
---
Alfred Grünfeld ~ piano

Chopin: Waltz No. 3 in A minor Op. 34 No. 2 [file size 8MB] SM [15MB]
Chopin: Mazurka No 25 in B minor Op. 33 No. 4 [file size 9MB] SM [17MB]
Recorded: June 1907 & 1905, Vienna
Matrix: u10904u & 6712b
Cat. No. Amour GC 25624 & 25625
Format: 25cm (10inch); double-sided black label Russian issue [see note below]
Johann Strauss II, arr. by Grünfeld: Soirée de Vienne [file size 16MB] SM [31MB]
Recorded: 26 October 1910, Vienna
Matrix: 15027b & 15028b
Cat. No. Amour GC 25626 & 25627
Format: 25cm (10inch); double-sided black label Russian issue [see note below]
'The Viennese pianistic style of the time, of which Grünfeld was the apotheosis, stressed virtuosity, but also sensuality of tone, passion, "optimistic, carefree pleasure in life, a warm, beautiful, kind humanity, with a distaste for 'depth, ponderousness, exaggeration, and hardness" - these associated in Vienna with a German style. Serkin later described Grünfeld's playing as "incredibly beautiful." He was a special favorite of the city's Jews, a passion spoofed by a contemporary joke in which a Viennese Jew remarks, "Of the Jewish holidays I observe only Grunfeld's concerts." Grunfeld was unquestionably a serious musician, whose programs favored relatively pedal-free Bach, Mozart, Beethoven, Schubert, Chopin, and Brahms, in addition to nineteenth-century miniatures, especially, it need hardly be added, the waltz.' Rudolf Serkin: a life, by Stephen Lehmann & Marion Faber, OUP, 2003, p. 19
Alfred Grünfeld (1852-1924) received his first musical education at the Prague Conservatory, where Höger gave him instruction on the piano. He met Mahler or rather Mahler stayed with the Grünfeld family at Prague in 1871. The impression left on the eleven-year-old Mahler was rather unfortunate, having reluctantly lodged with the Grünfeld's while attending the Neustadter Gymnasium (his father had sent him there to improve on the poor grades he had been getting in Iglau). He had been rather scornfully treated, perhaps even bullied, by some of the Grünfelds numerous children but had suffered apparently deeper psychological scarring as a result of having attempted to 'save' one of the family's maidservants, whom he had accidentally witnessed having sex with the nineteen-year-old Alfred Griinfeld. His embarrassment and confusion! heightened by the pair's angry demands that he swear to tell no one what he had seen, seems to have remained vividly enough in his memory for him to recall them many years later in conversation with his wife.
Grünfeld studied at the Kullak Academy in Berlin and eventually moved to Vienna, where he became a popular teacher and performer and later became court pianist to Emperor Wilhelm I of Germany and was a friend of Brahms, Strauss and Leschetizky. Edward Hanslick made the following remarks in reference to Grünfeld. "He is a musician beyond criticism; in public and in private one of the best known members of Vienna Society, and the greatest favourite with all musical people. By his brilliant playing as well as his sweet expression and gay humour, he understands to perfection the art of charming his listeners in Vienna.'
Grünfeld cut his first discs in 1899 and continuing to record until 1914. The piano in the earliest recording here of 1905 may have had the dampers removed to increase the volume level, also the odd twanging sound in the lower notes is common to early piano recordings due, I believe, to the slight irregularity in the motor mechanism of the cutting lathe. By 1910 a considerable sonic improvement had been made and Grünfelds arrangement of the Strauss is pretty good for this period in recording history.
Re the Labels, John Milmo pointed me in the right direction [and spelling!] regarding the use of the Amour label on records. According to Leonard Petts The story of "Nipper" and the "His Master's Voice" picture painted by Francis Barraud, 1973, the use of the familiar Dog & Gramophone trademark was rejected in Russia because of the common derogatory saying 'He sings like a Dog.' It would have been a simple matter to continue with the Recording Angel trademark but objections to this were also being voiced by the Russian Orthodox Church. The church objected to a Christian angel on a record as they could be handled and touched by infidels. Unlike Western devotional images pictures of religious subjects are regarded as holy in themselves and veneration is paid to them as prototypes of the angels they represent. So the Cherub came into being - a sort of angelic creature with wings and a quill not much different from the Recording Angel used heretofore excepting that the change seems to have mollified everyone. If anyone can tell me why the 'He sings like a dog' was such a popular phrase, or who in the Russian Church actually objected I would like to know.
The legend in Russian under the words 'Concert Record Gramophone' state that the record was 'Made by the Gramophone Co. Ltd., Riga' which places the pressings on or after s 1908-1910.
---
---
---