Singers & Choral
Recordings are in FLAC format downloadable through MediaFire by clicking on each title.
---
Lucien Muratore, tenor and Georges Delangle, flute

Gluck: Armide, Act 2 Plus j'observe ces lieux [file size 9MB]
*Gluck: Armide, Act 2 Plus j'observe ces lieux down a semitone [file size 9MB]
*I can't make up my mind on the pitch of this record so I have uploaded a version down a semitone from the score which sounds to me more comfortable for the tenor.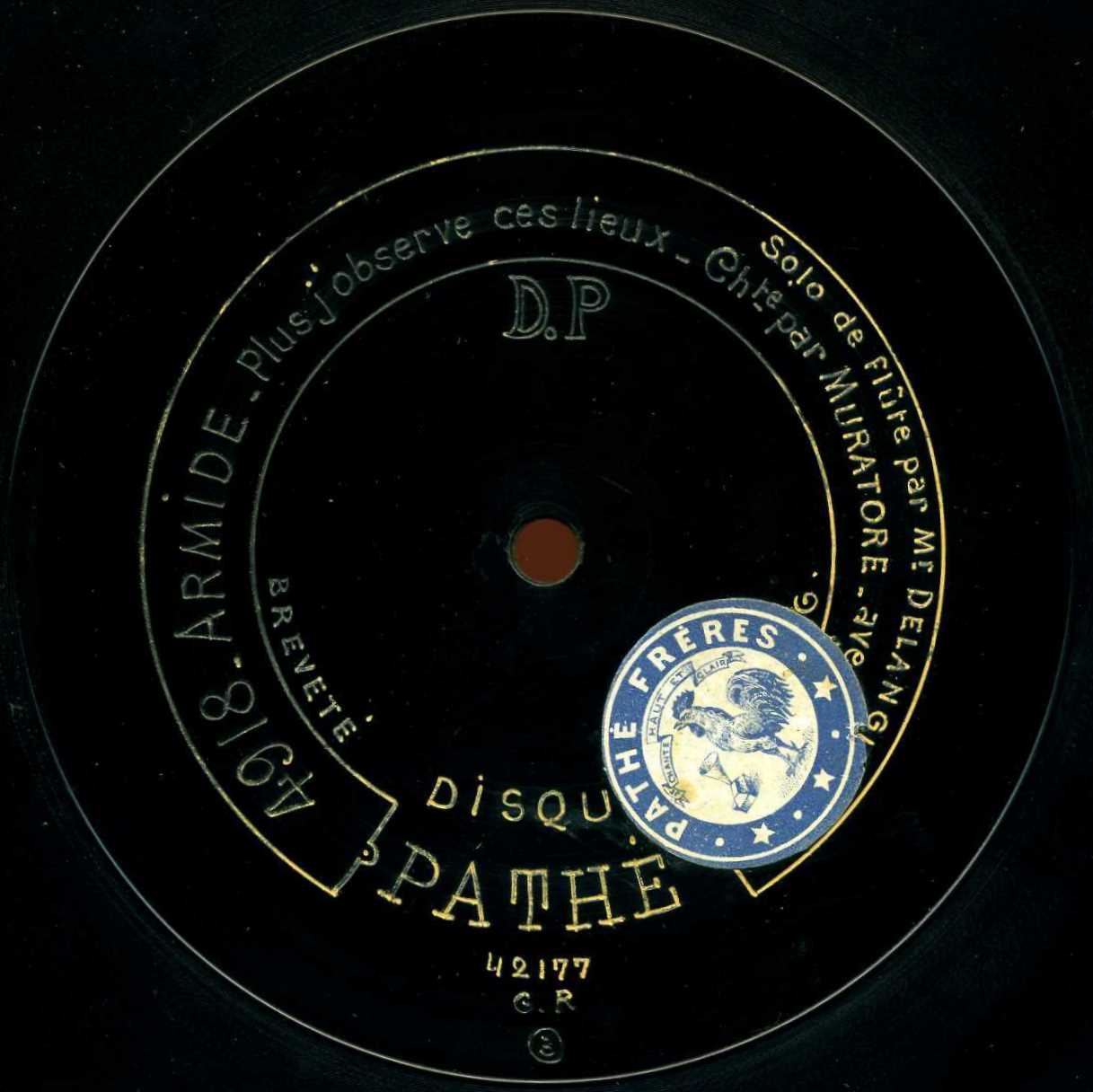 Recorded: May 1909
Matrix: 4918 [Stamper 42177 GR] Pressed c.1912
Cat. No. Pathe 4918
Format: 29cm (11½inch); double-sided etched label
Record kindly lent by CharmNick
Although the career of the tenor Lucien Muratore is fairly well documented, that of the flautist Georges Louis Delangle (b. 1889) is not.
A pupil of the famous Claude-Paul Taffanel (1844-1908) Professor of Flute at the Paris Conservatoire, Delangle was instructed like Taffanel's other students to play in a new, smoother style that included a light and carefully-modulated vibrato. Delangle won a first prize in 1903 and went on to become flautist at the Paris Opera, traditionally the most prestigious orchestral position open to a French flautist, where Taffanel was also until 1906 the chief conductor. As Taffanel is generally credited with the revival of early music in France and Muratore made his debut at the Paris Opera in the April 1905 revival of Armida where he had replaced an indisposed an Agustarello Affre:-
19 AVRIL. Dans Armide, M. Muratore remplace M. Affre, subitement indisposé. Le début du jeune ténor paraît des plus heureux. Sa prestance et sa jolie voix lui conquièrent, après la célèbre cavatine du second acte, la faveur du public. (Les Annals du Théâtre e de la Musique 1905, Paris ,1906 p. 12)
Probably as a result of this debut Muratore included this aria as one of the Edison two minute cylinder in he recorded in July 1905, this must be even more truncated than the version here!
The Pathe recording from May 1909 follows the 50th Opéra performance of the 17th February 1909 when Delangle no doubt had become the principle flautist their.
However primitive this recording is it must necessarily, in some way, replicate the actual stage performance.
The information on Muratore is taken mainly from an excellent biography and discography of Lucien Muratore published in The Record Collector Vol. 54, No. 4, December 2009.
---
Robert Easton, Bass as 'Robert Merlyn'
HANDEL: Alexander's Feast ~ Revenge,Timotheus Cries [file size 8MB]
HANDEL: Samson ~ Honour and Arms [file size 9MB]
Recorded: February 1929
Matrix: A8534 & A8601
Cat. No. Regal G9311
Format: 25cm (10inch); double-sided, magenta label

Why Robert Easton recorded under an assumed name is unclear, but the voice is quite easily recognizable due to the distinctive vibrato.. The record was probably issued as a cheap alternative to Peter Dawson's rendering of Honour and Arms issued in July 1928 by HMV on C1500. The aria from Alexander's Feast is somewhat rare on 78 recordings with the only other contenders before Trevor Anthony's 1948 recording on Decca K2138 being an acoustic version of Malcolm McEachern on Æolian Vocalion X.9500 and an electric version from 1929 of Armand Crabbé, in French, on HMV DB1305.
C.M. Crabtree in The Gramophone of June 1929 was quite taken by the performance:- 'Robert Merlyn (bass), with orchestra. G. 9311 (10in., 2s. 6d.). There is clearly someone on the Regal staff who is exceptionally qualified for picking out first-class singers (and perhaps someone with a gift for finding them). This is a record which will compare well with any Handel aria records. Not only is the soloist, Robert Merlyn, a really fine bass, but also the whole finish—the level of the orchestral accompaniment, the tone and the whole recording—is of the very best. The only criticisms—and they are perhaps trifling—are that in Honour and Arms (from Samson) Merlyn seems a wee bit less fierce and forceful than say Radford ; and that Revenge, Timotheus cries, loses perhaps a little fury by being taken on the slow side. But it certainly doesn't seriously hang fire.'
J.B. Steane, in his fairly praiseworthy review on a selection of Easton's records reissued in 1981 by the Sunday Opera label [SYO 12] described the record as 'Least good, I'm afraid, are the Handel arias, on rare Regal's under the name "Robert Merlyn", which open the recital.' - I leave it up to the listener to decide on the merits of these sides.
I apologize for the roughness of this record, the copy has had a very hard life and only survived as packing material taped round some records I had posted to me. No doubt if it had not been recycled in this way it would have gone to shellac heaven.
---
Cercle Jean-Sébasien Bach de Genèva
Francis Bodet conductor
BACH: Motet, Komm, Jesu, Komm! BWV 229 [file size 41MB]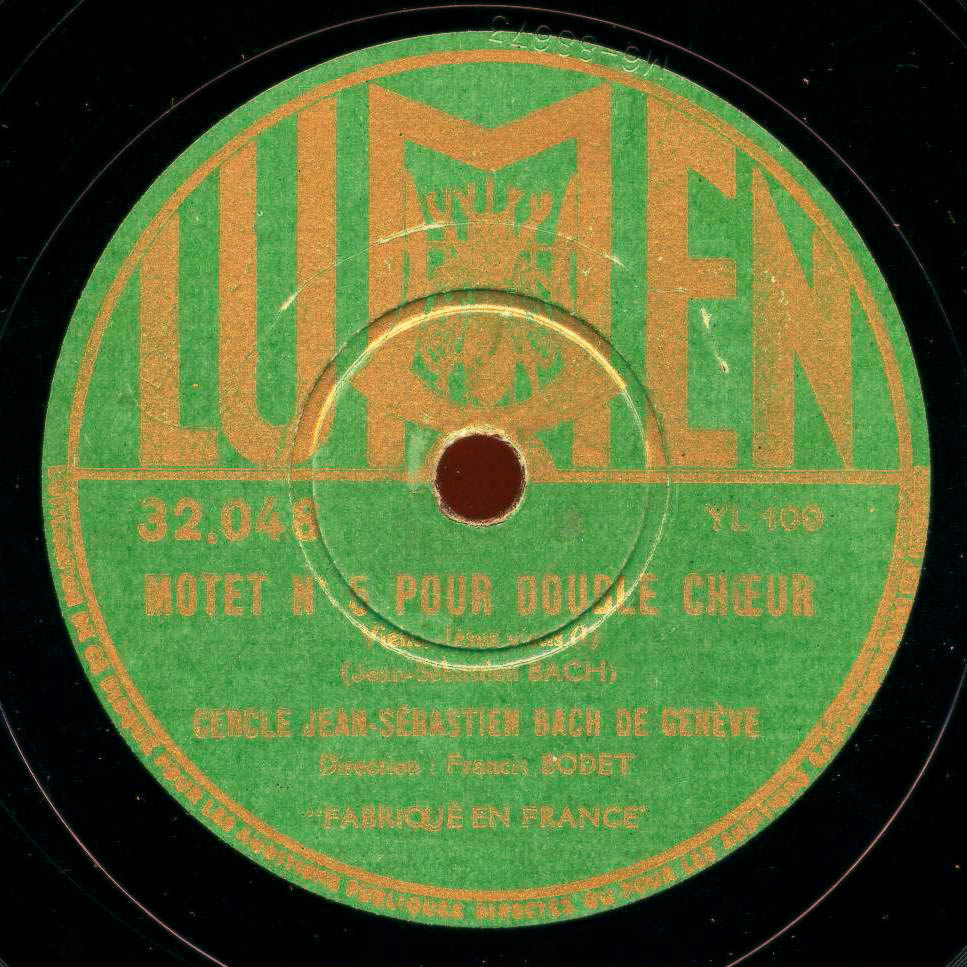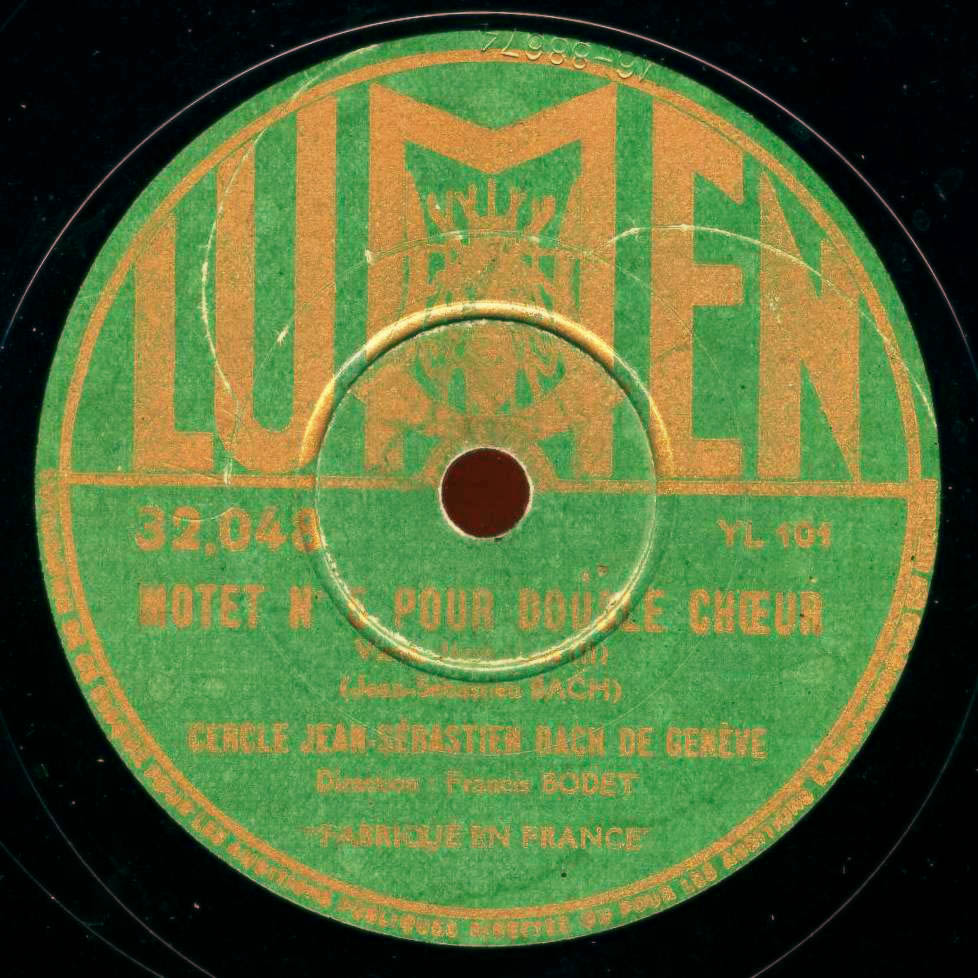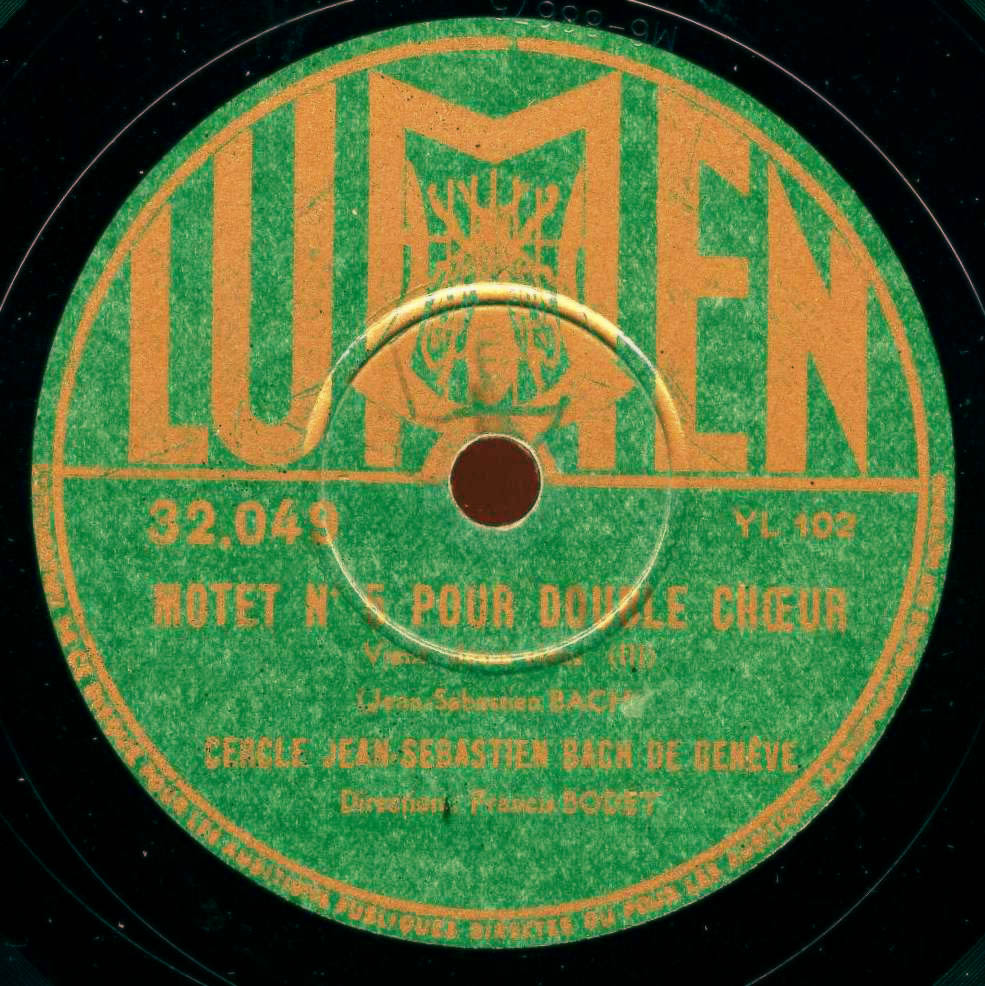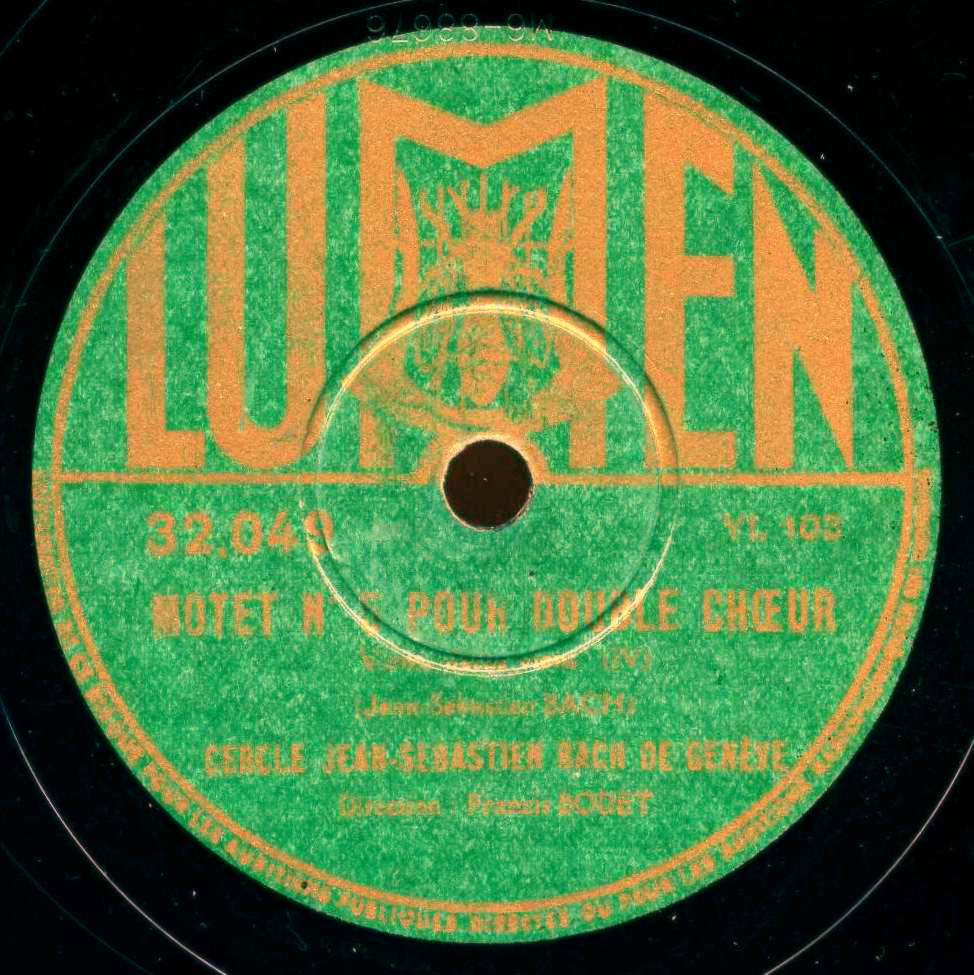 [Thanks to Kip Williams who fixed my scans of these labels]
Recorded: 1st April 1937
Matrix: YL100; YL101; YL102; YL103
Cat. No. Lumen 32.048 & 32.049
Format: 30cm (12inch); double-sided green label ( impossible in combination with gold to scan properly).
The Cercle JS Bach de Genève was the inspiration of the French trumpeter Francis Bodet (1894-1981). Bodet first studied at the Lyon Conservatory, where he received a first prize in 1910 before entering the class of Merry Franquin (1848-1934) at the Paris Conservatory, and where in 1914 he again received a first prize. In 1926, on the founding of the Orchestre de la Suisse Romande he became principal trumpeter. During the winter of 1928-1929 a group of young singers was formed under Francis Bodet and René Kister (who I believe was a writer and publisher), in order to present to a Geneva audience the works of Bach and his contemporaries. They gave their first concert on the 11th May 1929 in the temple de Saint-Gervais, accompanied by soloists of the Suisse Romande.
On the same day as BWV 229, the Cercle made a recording of Bach's Motet: Lobet den Herrn, alle Heiden BWV 230 on Lumen 32.046 & 32.047. As far as I am aware no other recordings were made by the Cercle until the LP era.
---